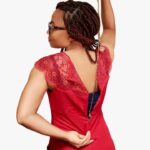 Many women find it difficult to self-zip, and most often would resort to asking help from their drivers, gatemen, neighbours or even strangers on the street. With ZipEasy – self zipping tool, women are giving a sigh of relief.
According to Mrs. Kate Iketubosin, Lekki, Lagos 'The ZipEasy is ingenious, practical and stylish. It affords any lady the independence she has always desired.  Well done Helen Lush!'.
As the name implies, the 'ZipEasy' tool is designed to enable ease of raising and lowering zippers attached to unreachable or difficult parts of clothing items, suitcases etc, without needing the assistance of others.
This tool ensures that user will no longer be held to ransom, in addition to saving time, avoid the uneasiness, embarrassment, frustration and the likely danger that comes with seeking help from strangers.
The product comes in metal, pearls, rhinestones, fabric (silk and grosgrain) materials. It can also serve as a fashion accessory and lanyard depending on the design and the user's preference.
The versatility of the product including its options in design and colours, makes it an ideal gift for any woman. She will love you for it.